Well, if you haven't heard by now, get outta that damn cave you're living in and listen up, WILL MUSCHAMP IS OUT AS HEAD FOOTBALL COACH AT THE UNIVERSITY OF FLORIDA!!! A year too late, but nonetheless, gutless A.D. Jeremy Foley finally did what was necessary and axed the miserable UF coach yesterday. In this edition of the Triple Option, I plan on discussing Foley, his faults, Will Muschamp, his undoings and the possible coaching candidates that Foley needs to get his ass on the phone and start calling.
I have no clue what I'm doing...
The Give
Will Muschamp. Not much good can be said about the man. Four years ago when he was hired, I had a bad feeling that turned out to be true. In his first season, going 7-6, I thought to myself "A drunk can go at least 8-4 with the talent at UF right?". Proves I was wrong. Sure, Urban Meyer left what he called a "broken" program to the hands of Muschamp, but still, with talent abounding you should be able to always go 8-4, 8-5 somewhere in that ballpark on a down year at UF. Spurrier pretty much insured us of that right?! Well...not so much. Anyhow, year 2 and UF sits at 11-2 and is in the National Championship conversation. Not bad, but when you look deeper into Will Muschamp teams, you see their ugly nature. Being a coach, I see this quite easily.
Will, pack your bags, your headed to Columbia!
There are 2 major flaws in Will Muschamp's theory of how to play the game of football. In a nutshell Muschamp's philosophy was to run the ball, play great defense and win the kicking game. The problem is quite simply, mathematics. See, there are 3 phases of the game, each comprising 33.333% of the game of football. To fail at any one of these phases yields a result of 66.667%, of which would not be a passing grade in any class I've ever taken. So, if you look at his offensive philosophy of "run the ball", well that's only half of the 33.333%, which puts you at 16.667%. So, "if", the other 2 phases are winning, you are only at 83.334% of your capability. Now, that's a B- any day of the week, but B- doesn't not win in the SEC. Here's why. Number one, you are NOT going to be able to consistently run the ball in the SEC, you must put the ball in the air. Contrary to the Colin Cowturds, and the Gary Danielson's of the world, the SEC is not "just" a "ground and pound" league. Yes, the QB play in the SEC is a bit behind the rest of the nation, but you still need to be able to throw the football down the field. Well, under Willie's direction, Florida's offenses have done just the opposite. In redneck terms they brought a truck puller to a drag race. His offenses were abysmal to be kind. I mean, who the hell hires Charlie Weiss? That guy's got like 3 colleges paying him NOT TO BE THERE?! Take a hint. Anyways back to our math lesson, if you lose any one of the phases totally, but are still able to run the football, then you are looking at playing 50% football. That's an F in any grade book. Well, in year 2 under Coach Boom, the Gators were able to walk that fine line of 83.335% football. It was ugly at times, and it also cost them in some key games such as the Georgia game that season. Luck runs out as it eventually did on Will Muschamp and his style of football.
Looked up jackass in the dictionary and look who I found!
The following season, things looked bright, but injuries crept in and just decimated the talent he had on both sides of the ball. The problem is, at Florida, our 3's should be better than your 2's, and perhaps even your 1's. This is if we are recruiting to our potential and developing our players. What offensive talent wants to come to a team that's going to "run the football"?! Hell, even Paul Johnson at Georgia Tech gets wide receivers to come play for him, because they know he's going to throw them the football. At UF, the rumor was they renamed the wideout position to guardout or wide tackle. Ok I'm joking of course, but you get my point. Anyways, Coach Doom goes 4-8, loses to Vandy and Georgia Southern in the same season, and will forever be a black eye on a once proud football program. Gator fans, that season will haunt us more than you ever know, and I'll tell you why in 1 word...recruiting. Kids aren't stupid, and who the hell wants to come to this dumpster fire of a football program that just lost to Georgia-friggin'-Southern? Answer, nobody. Foley, should have fired Muschamp after that season. That was mission critical status there, and Foley didn't answer Gator Nation, and quite simply folks, we are going to have to pay the piper, and our outstanding balance is HUGE.
Nope, Foley, or the "gutless one" as I shall call him, held on to his "boy" trying to make himself look good. He hung on to Muschamp for 1 more year, and allowed the wound in the UF football program to be cut deeper, until this past Saturday, when our Lord and saviour Steve Spurrier delivered that fateful blow. Thankfully so, because I was afraid that if UF would've finished 7-4 on the regular season, Foley would've let Muschamp stay. I may be wrong, but again, this is the idiot that hired Ron Zook.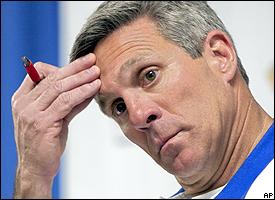 Somebody say Zook?
Listen, Muschamp may be a great guy, his players may love him, the point is he was paid millions of dollars to win, and quite simply he didn't. Muschamp has too many glaring flaws as a head coach, to coach ANYWHERE, most notably the University of Florida. They are (in no particular order):
He cannot recruit. I know, most people will argue this, but let's be honest, Jeff Driskel isn't exactly a first round draft pick. Most of the OL will be doing good to be picked up in the supplemental draft, much less the "actual" NFL draft. Our WR's are abysmal, can't separate, oh, and can't catch for shit either. Now defensively, yes, Muschamp did a pretty good job in that regard. I have to say there was never a shortage of NFL talent on our defenses under Coach Doom, but again, that's only 33.333% of the game.
He does not develop the talent he has. This again, is more of an offensive problem, as again we look to Jeff Driskel. Driskel actually got WORSE the longer he played at UF. Can somebody tell me how highly touted guys like DeBose and Dunbar, basically disappear during their tenure at UF? Quite simply it comes down to development and it has never been there under Muschamp's direction.
His teams lack discipline. End of story. This lack of team discipline killed the Gators in the Muschamp era (or should I say error). You cannot beat yourself. That's not just coach speak either, it's the truth, and the Gators, under Muschamp have found more than a few ways to beat themselves.
Nice guys finish last. That's the story anyways. Muschamp has been referred to as "a players coach" or "a really nice guy", and that may do fine if you're looking to be an assistant coach, but the header's got to have an edge about him. Look at the guys that are successful, there are as many that hate them as love them (maybe more of the former even). Think about it, how many folks do you know that despise Saban, Stoops, Spurrier? That list probably far outweighs the one where people like them. The point is, nice guys finish last because they lack the intestinal fortitude to cut your throat when they have you down. I'm sure Muschamp will make a good coordinator elsewhere, was probably a tremendous mentor to several of his players, and is a good father. At the end of the day, however, Donald Trump is a gazillionare for one reason and one reason only...
He cannot hire assistant coaches to save his ass. When Chris Leak is on your staff, you are in trouble. The gutless wonder of a QB, who had to have Tim Tebow help him win a National Championship has no clue about the game of football. He looks just like he did when he played at UF (by the way he was a Ron Zook product, and terrible QB), which is a deer in the headlights. The guy he replaced isn't any better. Joker Phillips' name pretty much says it all "Joke". Anyone who hires Charlie Weis has to be an idiot. That's it, period point blank. Like I mentioned earlier, there are several schools paying Charles NOT to coach there. Sure, he had a good run with Tom Brady, but hell, even a blind squirrel picks up a nut every now and then. In the end, Muschamp's lack of player development falls directly on his inability to hire coaches that could do just that, develop players. D.J. Durkin seems like a pretty good coach, as does both Brent Pease and Kurt Roper. It's hard to size up, when you're looking at the dumpster fire known as the Gator Football Program right now. The proof was in the pudding though, as year after year under Muschamp, players did not grow and develop to their potential.
Will Muschamp? Didn't I eat him?!
So what's next for Florida? Who should they go after? Here's the skinny. I'm going to list the candidates and at the end, I'll rate the hire, and then also rate the reality of the hire as well. Let's be honest, Nick Saban ain't comin' to Gainesville folks. My honest opinion is this, due to what Urban Liar and Will Muschump have done to UF, the next coach, won't be winning any championships either. I do think they need to bring a guy in that needs to be the best recruiter (much like Zook, Jesus did I just say that) to get the talent to Gainesville. However, the mountain the next coach has to climb with perennial doormats like Tennessee, South Carolina and Kentucky rising to the top of the SEC East in recent years is really going to be too much for one man to overcome I'm afraid. I could be wrong, but you'll see my reasoning when this is all said and done.
Bob Stoops. So many folks think this would be a great hire. While no doubt "Bobbie" has had a great run at Oklahoma, I'd have to say he's been quite mediocre to say the least. However, I think you put Bobbie in Florida, and get him some better quality talent, he might be able to do something. Again, there's just something about him that lends itself to be mediocre. I don't know, but I wouldn't really care for this hire, and quite honestly don't think it would happen. Hire Grade: C Reality: Unlikely
Rich Rodriguez. Dear God in Heaven I hope not. If they hire Rich Rod, I'm done with UF, end of story. Love the guy to death, he can't coach big boy ball. DO NOT tell me Arizona is big boy ball either, because they aren't much better than Tennessee is right now, and would get their asses handed to them weekly if they were in the SEC. Rich Rod is a good fit, for the Arizona's, Marshall's, East Carolina's, and West Virginia's of the world, NOT UF. From day one, he would have the boosters pissed, and his track record at a big school speaks for itself. He IS basically the Will Muschamp of Michigan football. Please Foley, don't make that mistake twice. He's a second tier coach at best, not worthy of SEC football. Hire Grade: F Reality: Unfortunately more likely than I'd like...
Charlie Strong. Charlie would be a GREAT hire at UF. He's proven he can win at Louisville and has things headed in the right direction at Texas. Charlie has Muschamp's off the field discipline and is into developing character players (although he did coach with Urban Liar, so I'd be a bit uneasy about what "character" means to him). One thing, and you cannot deny this, is the fact that he can recruit. If he were to come on board, I guarantee we'd sign half the stud players to come out of Liberty City during his tenure, very likely wiping the relevance of the University of Miami off the face of the planet. On the other hand, this hire is so unlikely, I'm not even sure why I wrote about it. Fact is, he's just getting started at Texas, to leave now, would put a black mark on him forever. I don't think he'll do it, it would be a bad P.R. move for sure. Hire Grade: A Reality: HIGHLY unlikely
Dan Mullen. Mullen, like Strong, would be homerun for many Gator fans. Mullen, a former Gator assistant under Coach Coward, er Meyer has built a very good football team at Mississippi State. However, Mullen isn't stupid, he knows the in's and out's of coaching at a place like UF, and quite frankly, I don't think he could hold up under the pressure. The pressure to win at Mississippi State is still low. I mean, let's be honest, in terms of the SEC, that place is a shithole. Mullen knows this, knows he can go 8-4 next year and blame it on youth, lack of experience etc. Can't do that at UF, 8-4 warms the seat. The other thing I don't like about Mullen, and didn't like about Meyer either is that despite being loaded with athletes their teams lack physicality. The 06' Gator team didn't , but that was because most of those guys were Zook's anyways, but the 08' team was just more athletic than other teams in the country. Where this has been exposed is against the top team in the SEC, the Alabama Crimson Tide. Just this past Saturday, Mullen's team looked like little boys getting slapped around by men, no different than the Gators did in the 2009 SEC Championship game. You can't be finesse in the SEC anymore, like you could when Spurrier took over. Hell, Spurrier even found out the hard way in the 95' championship game vs. Nebraska, sometimes you gotta buckle that damn chin strap and bloody your gums. You better be ready to do that weekly here in the SEC now. Mullen is too soft for the SEC, and quite honestly, he won't last. He'll get Mississippi State close, but he won't be able to seal the deal. He won't get canned for this, because let's be honest, it's Mississippi State, most of those folks don't even know how to read this blog, much less understand it. Their happy with 8-4, so let's give them their due and leave their header alone. Hire Grade: B Reality: Unlikely
Hugh Freeze. Freeze would be a great hire. He has shown the ability to recruit, and has also shown the ability to win big games with a shitty QB. I like the defense he's assembled there too. His ability to recruit would be the number one reason I think Florida should go after him. However, there's no way he leaves Ole' Miss now. He's too close to upending Alabama and LSU as the top programs in the SEC West. Hire Grade: A Reality: Highly Unlikely
Doc Holliday. Shit, I'd hire him on his name alone!!! This is the fit right here. Holliday could sell a ketchup Popsicle to a woman in white gloves in 100 degree heat. In other words, the dude can recruit. He's been a top recruiter everywhere he's been. He also has ties to Florida as he was on Urban Crier's staff. He knows the inner workings of recruiting in Florida, particularly South Florida, and the Miami-Dade County area to do what it takes to sign some of the state's top talent. He would be a shoe-in for the job. He's at Marshall, which is a good gig in and of itself, but let's be honest, Florida would be the mountain top. Holliday is the one candidate that I think could survive the first few seasons he's here because of all the talent he can bring in, and bring in immediately. He's also a high character guy. I know this first hand because he recruited a player of mine, and he's up front, honest and direct. These are qualities that the boosters at UF need. They don't need to be coddled, they need to be told to shut the hell up and let me coach. They won't like it, and if he doesn't win, they'll ship his ass outta here, but while he's here, he will load the coffers with talent for the next guy. That factor alone makes Holliday my top pick for the UF job. Hire Grade: A Reality: Likely
Gary Patterson. We all know I'm a huge Patterson fan, and while I think this may be unlikely due to the fact that he's still building TCU, and adapting to the challenges of being in the Big 12, it may be more likely than we think. Patterson, on one hand has developed TCU into a national power house, in just a few short years. Now, he's done this over a span of 13 years, a time frame he will not have the luxury of having at UF. That would worry me if he got the job. He's used to patience, dealing with a bottom feeder program, and there has been twice in his tenure his teams have failed to make it to a bowl game. That won't work at UF. The other thing that makes this unrealistic, unfortunately for Gator fans, is he's a defensive coach. Foley is just dumb enough to believe ESPN when they say the problem with Florida was that Will Muschamp was a defensive minded coach. That shit doesn't matter, Will Muschamp was an idiot when it came to running a major college football program BECAUSE HE'D NEVER DONE IT! Patterson is running a major college football program, and does know a bit about expectations. I think he's an excellent recruiter but better yet, he and his staff are good at player development. These guys don't get the top caliber recruits because they have to fend off the likes of Baylor, Texas, Oklahoma and Oklahoma State. What he does do, is the get the guys that fall through the cracks and then develops the hell out of them turning them into some damn good football players. He has also proven he can defend today's offenses. Although Baylor folks would disagree, he's made a living shutting down some of the best teams in the country with his patented 4-2-5 defense, so I think he could easily come into the SEC and defend all that we have to offer. I don't think Patterson is right, NOW, for UF, but in four years once they fire Doc Holliday, he will be the guy we need to seek out. Hire Grade: A Reality: Unlikely
Mike Gundy. I don't think Gundy would leave his Alma mater to coach at a place like Florida. I may be wrong, we all know money talks and bullshit walks. Gundy has done some good things at OSU, but one thing his teams DO NOT do, is play defense. This concerns the shit out of me. There is one sure-fire way to get your ass run out of the SEC and that's play shitty defense. Just look at Spurrier's crew this year. A ninth place preseason ranking, and a plethora of talent on the offensive side of the football. The Head Ball Coach (HBC) has lost games 42-35, 45-42, and 45-38. You can't JUST score points in the SEC, you gotta be able to play defense. OSU has also been abysmal this season, dropping their last four consecutive games. Do you really want something like that at UF? I don't think so. Hire Grade: D Reality: Likely (shit!)
Jim Harbaugh. If you don't mind an asshole as your head coach, Jim Harbaugh's your guy! I think Harbaugh would do fine, because much like Doc Holliday, Harbaugh would tell the boosters to shut the hell up. Believe me, there are noisy boosters everywhere, NONE louder than the ones at Florida. I just don't think Harbaugh will leave the pro game. I also have doubts to him being good at Florida because what are his ties? He doesn't know how to go into Liberty City or Belle Glade and steal those kids away from Miami. He's got some appeal on the outside because you can say "He coached in the pro's". Oh yeah how did that work out for Saban, or Spurrier. I find the transition, very unappealing, and almost meaningless when it comes to looking for candidates. Leave this one alone Foley, he's not worth the effort, you are going to end up paying him not to be here, because quite frankly, he'll ruffle too many feathers and not produce results. Hire Grade: C Reality: Unlikely
David Cutcliffe. I like this one. Only for superstitious reasons though. Florida's last savior came from Duke in the form of Steve Spurrier, could it be fate that leads Cutcliffe to Gainesville and resurrects the football program? I'd like to think so, but not sure Cut's the guy to do it. He's up there in his years already, and nowhere near as young as Spurrier was when he got the job at Florida in 1990. The similarities are there though, as Cut's been able to win at Duke...yeah, you heard me, he's winning at Duke. At his age though, I would think this is a highly unlikely hire. I don't think you go up in age with head coach here, especially to one in his 60's. I'm not knocking the guy, I just think we need a fresh young face (ala Hugh Freeze) to rejuvenate the program here. If hired though, I think Cut could have some success here, and I think he could bring in some good talent. I just doubt how long he'd last at such a stressful place as UF. Hire Grade: B Reality: Unlikely
Some others on the radar:
Jim McElwain. Doubt he'd do it, no ties to Florida either. Grade: B/Unlikely
Mike Shannahan. I think he'd take it, but he's too old, and I never really thought he was that good of a coach. I mean, shit, I could win the Super Bowl with John Elway for Christ's sake. Grade: D/Likely
Todd Graham. This one could happen, but I doubt it. PAC 12 football is easy and cushy, and nowhere near as stressful as the SEC. Grade: C/Unlikely
Chip Kelly. This is so far out of the reaches, I don't know why I'm writing it. Great coach, not gonna happen. Grade: A/HIGHLY unlikely
Gus Malzahn. Kinda like Chip Kelly. Grade: A/Unlikely
Greg Schiano. I think Schiano got a bad rap at Tampa Bay. It isn't like Lovie Smith is doing any better. Schiano also has character, I like that. Grade: B/Likely
Mark Stoops. I sure hope not. He's been a train wreck everywhere he's been. Give him long enough in Kentucky and he'll screw that up too. Grade: C/Likely
Ruffin McNeill. He's done good at ECU, but it's no UF. Grade: D/Unlikely
Mark Hudspeth. He's done some good things there, but I don't think he's SEC quality. Grade: D/Unlikely
Art Briles. Doubt he'd leave. Grade: A/Highly Unlikely
Foley, DO NOT hire this idiot...
The real problem here in all of this is Florida's Athletic Director Jeremy Foley. He inherited Spurrier, who he really ran off. I know the pressure of coaching at Florida was there, as well as lofty expectations, but if Frank Beamer can stay at Virginia as long as he did and Bobby Bowden as long as he did, Spurrier would still be UF's coach if it weren't for Foley. It's one thing to have pressure in your job, it's another to have pressure in your job when your boss is an asshole. Foley didn't like Spurrier because he couldn't control him. See that's Foley's problem, he wants to be top dog, and we all know, the head football coach in any athletic department is top dog. This is why, we've only gotten rid of part of the problem with firing Muschamp. Foley won't let a big ego like Gary Patterson, Gus Malzahn, or a Chip Kelly coach at UF because those guys will become larger than life if they win at UF.
Maybe both of you should follow Will...
Foley has a terrible track record when it comes to hiring football coaches. Let me just remind everyone:
Ron Zook. The Zooker was, at the time, one of the worst coaches in recent history. The guy's an idiot. You can't possibly look as dumb as he does, and not really be that dumb. Now he's not coaching, which is the best thing for college football. What amazes the shit out of me is the fact that Spurrier demoted him when he was on UF's staff in the first place. Zook was a knee jerk reaction to the fact that Foley felt he finally had Spurrier under control at UF. Psssh. Bitch please. Foley didn't have a clue what to do to hire a guy to replace a legend like the HBC, so he whiffed mightily with a guy that was good at one thing and one thing only, recruiting.
Urban Meyer. Many Gator fans will say that this was Foley's homerun ball here. I disagree 1000% (if that was possible). Sure, he won the 06' National Championship, but he did it with Zook's players. Remember the Zooker' could recruit, and that was a damn good football team that just needed someone with an IQ higher than that of a chimpanzee to run it. Yes, in 08' Meyer then won the championship with Tim Tebow and Percy Harvin. No doubt that was all Meyer's doing, however in 09' we saw the cracks in the wall, and in 10' it all came crumbling down. Meyer couldn't handle the pressure and the inmates were running the asylum. So tell me, how much did we really pay for those two National Championships? The answer is, we paid in years folks...YEARS. Florida will not be relevant on the national stage for at least the next 5 and more like 10 years because of the mess that was started by Urban Meyer. The coward, ruined a great program, and then the idiot that Foley is, turned it over to Muschamp, who saw fit to fix the social status of the program, but did nothing to improve the product on the field. Urban Meyer is as much, if not MORE so to blame for where UF is right now as a football program, than Will Mushcamp. Muschamp came in under the worst circumstances. Internal strife in the locker room, players who couldn't keep their nose clean, and a fan base that had just won 2 BCS National Championships in the past 3 seasons? Yeah, then Foley's ignorant ass goes and hires a coordinator with 0 head coaching experience to fix it.
Will Muschamp. For all the bad that Muschump has done to UF, he really has some of the issues his whiny predecessor left for him to handle. I think the Gators do play much better as a team, there's less arrests, and overall it seems the inner workings of the program have been cleaned up. For this, I tip my hat to Muschamp. That has to be hard to do, all the while knowing you aren't getting the results on the field that are needed to succeed at a place like Florida. Regardless, the product on the field, quite frankly, stunk. Poor coaching were what led the Gators to numerous defeats that really shouldn't happen. I'm sure Muschamp will have no trouble landing a top-notch coordinating position. As a matter of fact, I'd be shocked if he wasn't Steve Spurrier's DC before the ink is dry on his buy-out option. Anyhow, I wish Muschamp well, but please, whatever you do Coach Boom, don't let the door hit you where the good Lord split you.
What did I do???
These are the choices that Foley has given Gator Nation. Urban Liar is the only one who could be seen as an "elite" coach. How does this happen at UF? It does because we have a moron as an A.D. Sure, Florida has a trophy case full of SEC Championship trophies in other sports, but let's be honest, when was the last time 90,000 people showed up to watch our tennis team? In other words, nobody gives a shit. Try bragging to your FSU buddies how our men's golf team just won a National Championship and you'll get laughed out of your local bar. Football is, and has always been king, and needs to be treated as such Mr. Foley. Foley needs to get off his high horse, hang his ego on the hat rack, and pick a winner for Gainesville. If not, Mr. Foley, it'll be you packing your bags.
Duece