Well, the
AP has released their Top 25 College Football Teams
and well...I think we need to take a look at this and give them the 12th Man's Opinion about it! I don't think they really care, but what the hell I'm bored on a Sunday night and can't sleep, so let's dig in.
University of Southern California
AP Pick: 1
12th Man: 3
I think this is a bit high. First off, no way USC is more physical than either Alabama or LSU. Yes, they have QB Matt Barkley, but who are their other proven weapons? McNeal rushed for 1005 yards in the Pac 12...hell, I could do that! See, PAC 12 teams don't play defense. The PAC 12 is the NBA of college football, meaning defense is the time that the offense takes a break, so PAC 12 DC's simply coach their defense to "slow up" the opponent instead of stopping them. This way those big hog-mollies can get some much needed rest for the next go-round. Anyhow, USC is good, no doubt, but I think they lack the physicality to stand toe-to-toe with an SEC opponent. I do think that USC will be around in December, possibly in the BCS National Championship game, however they do seem to always falter somewhere on their schedule.

Yes, I do believe my own bullshit...next question please.

Alabama
AP Pick: 2
12th Man: 2
I think the AP got this one right. Saban's primed for another run, but I'm afraid he doesn't have the best team in the country though. He's got some excellent young talent, and will need it quick with all the starters they have to replace. QB A.J. McCarron returns and the OL is probably the most talented in the country. The back end of the offense and wide receivers are going to need some work though. We also saw how weak the kicking game for Nick Saban was last season, not sure if they've shored that up or not, but remember, special teams ain't called special for nuthin'! I honestly think somehow, someway Saban will be around at the end of it all, but won't be a back-to-back national champ. I honestly think Michigan has a chance to upset them in the season opener and I don't think they'll beat LSU this time.
LSU
AP Pick: 3
12th Man: 1
Even with the departure of Tryann Mathieu, I think LSU is the best team in the country. LSU has a physical slug fest brand, much the same as Alabama, yet they've got some mighty fine go to athletes as well. The QB position will once again be source of some question as Mettenberger is untested, but all the word coming out of training camp is that he's way better than anything they had before. Hell, they made it to the big dance with the Trent Dilfer of college QB's, so it's obvious Miles doesn't need a great QB to win. Miles is always the "X-Factor" too, from chewing grass, to timely fake punts, he's a hard one to figure out, and who doesn't like a guy with the nickname the "Mad Hatter"?
Up Yours Saban!
Oklahoma
AP Pick: 4
12th Man:4
I like Oklahoma here, but I don't think they can handle their schedule. I like Bob Stoops, but his teams are notorious for finding ways to choke. The schedule is brutal too, as the currently are scheduled to play five Top 25 teams this season. Don't forget Notre Dame is on the list too, and I think they will be much improved this season. I don't know, I think they are honestly the number four team in the country ON PAPER, but I don't think they last to the end here. I see some upsets in their future, most notably against West Virginia and the following week against OSU. I could easily see two losses there, and even though Kansas State is 22 in the country, they scrap with the best of them. Tough schedule, but I do think Stoops has yet again another very good football team.
Oregon
AP Pick: 5
12th Man: 7
No way a PAC 12 team is better than Georgia or FSU. I know Oregon has a lot of talent coming back, however they lack the brute toughness to cross the Mississippi and expect to play the eastern brand of football. Chip Kelly is an expert at having his teams be a thorn in opponent's sides and they did play better against LSU last season than I expected. The schedule certainly is favorable with only two ranked teams that they have to face. I don't see them getting by USC, but you never know though, Oregon has had some good upsets in years past. Anyhow, I think with a late loss to USC, you won't see these guys in any BCS National Championship games, however they will probably be in a BCS bowl with only one loss because of such a favorable schedule.
Georgia
AP Pick: 6
12th Man: 6
I would agree that Georgia is probably the sixth best team in the country. I'd have Arkansas here if it weren't for the fact that the Hawgs just went through a coaching change (and a rough one at that). However, UGA is not here at the end of the season. Mark Richt's crew will unfortunately lose to Florida and South Carolina this season. The rest of the schedule is very favorable, and with QB Aaron Murray coming back anything is possible. The defense should be good, however I don't think this team lacks the quality character it takes to travel deep into BCS land. I hate to see it because I really like Richt, but I think his seats about to get hotter. Talent-wise, hands down this team is the sixth ranked team in the country though.
Damn, it's getting hot in here!
Florida State
AP Pick: 7
12th Man: 5
I think Jimbo's bunch in Tallahassee is going to turn heads this season. The only stumbling block I see on their schedule is when they travel to Virginia Tech. I see FSU rolling over Florida and VT after struggling vs. Clemson early. I think the offenses success will lie with E.J. Manuel, who has played brilliant at times, but then fallen off the wagon on others. I also think FSU's defense will be better this season, having gone through some growing pains a year ago. I think they will lose in their bowl game coming up short, but look out 2014! Those recruiting classes are fixing to pay off for Jimbo Fischer.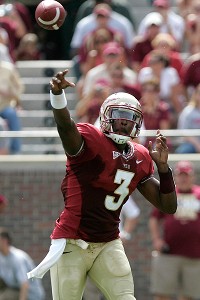 If this guy plays to his potential...LOOK OUT!

Michigan
AP Pick: 8
12th Man: 9
Brady Hoke has breathed life into a somewhat dormat program, and the embers that were still lit have ignited. I think things are changing in Ann-Arbor, but we are about two to three years off from seeing the full effect. I think Michigan slaughters Ohio State this year, but falls to Alabama and either Nebraska or Michigan State (somehow, I think it will be Nebraska). I like Hoke's style and with Robinson at QB, anything is possible. Not too sure about the defense, and that September first game will show just where this teams ranks in the national scene.
South Carolina
AP Pick: 9
12th Man: 8
Well, the 12th Man and the AP were close here, but I don't think Michigan is better than South Carolina. Especially a Lattimore led South Carolina. Especially a South Carolina without an idiot at QB. I actually think USC wins the East, only to fall (badly) to LSU in the SEC Championship Game. I just don't think USC has the firepower on offense, or the physical presence on defense that can be found in the SEC West. I don't think they beat Arkansas in the West during the regular season, but will go into the SEC Championship game with two losses. I don't think USC loses to an SEC East opponent this year. When Lattimore is on, he's tough, and now with a good QB, playaction will be a bitch against these guys. Yes, they don't have any proven WR's, but how proven do you have to be against good playaction? The defense should be tough, maybe not Georgia or Florida tough, but good enough to keep their offense around. Then there's the ol' Ball Coach. You can never count him out, and just when you think he's down...BAM, he slaps the cards on the table...and then takes your money...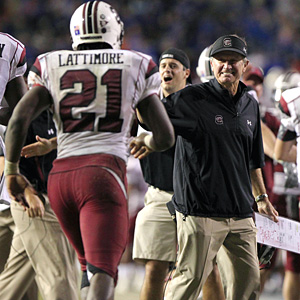 These two spell trouble in the SEC East
Arkansas
AP Pick: 10
12th Man: 10
On paper, without the coaching change, this team is EASILY fifth. However, Petrinogate WILL have an effect on this team, and they will come apart at the seams. The sad thing is, I could see them upsetting Alabama, but they will ultimately fall to LSU at the end of the season. I really think the only losses this team has at the end of the year will be Bama' and LSU though. The loss to Alabama early on, will really set the tone for this team and coaching staff. If they come back and beat Texas A&M and Auburn, then you are looking at 10-2 on the regular season and on the outside looking in as far as the SEC is concerned. However, falter in one those weeks, and this thing gets ugly and fast. South Carolina and Mississippi State loom in the distance and will not be "easy" opponents. I think 10-2 is a reasonable expectation for this team, but they really lack the overall defensive athleticism and physicality to stand up to LSU or Alabama.
West Virginia
AP Pick: 11
12th Man: 13
WVU's startling and convincing win over ACC opponent Clemson in last year's Orange Bowl was quite impressive. I think are going to have some growing pains this season as they enter the Big 12 Conference. The schedule is brutal, and the Big 12 has seen the Air Raid before. Sure, Holgo is good and has his team primed and I can easily see WVU upsetting several folks in the Big 12, but will they be around after New Year's day...I doubt it.
Wisconsin
AP Pick: 12
12th Man: 11
Wisconsin always seems to find a way to win, and despite being down this year, somewhat, I think the Badgers are still going to make some noise. The schedule is VERY favorable as they have two of their three ranked opponents at home. How big the loss of Russell Wilson is yet to be seen, but with running backs like Montee Ball and James White the ground game should be outstanding. I know, Wisconsin doesn't have much at the WR position as far as playmaker...but when do they ever? I could see them sneaking out of the regular season at say 10-2, but that's a hard call when your signal caller is a newcomer.
Michigan State
AP Pick: 13
12th Man: 12
I was very impressed by MSU a year ago, and I think this team is here to stay. The schedule, however, will be brutal. I don't foresee them going very far with potential losses to Michigan, Wisconsin and Nebraska along the way. I also could see them stumbling out the gate against Boise State too, although Boise State should be somewhat down this year due to attrition via graduation. Also, losing the QB position from a year ago, does not bode well with having to go to Michigan and Wisconsin back to back. I think this team has talent, but whether or not Coach Dantonio can bring it all together is yet to be seen.
Clemson
AP Pick 14
12th Man: 15
Clemson has the offensive firepower to hang with anybody in the country. However, their lack of consistency in all three phases of the game have me a little skeptical. I do see them potential stealing the ACC, but getting embarrassed on the national stage once again as they did by giving up 70 points to WVU a year ago. Their defense is very suspect as is any defense in the ACC (except for FSU and VT). If the defense can keep it close, the offense will blow the doors off people. Clemson's receiving corps is second to none in the country.

There won't be a Sophomore slump for this young man!

Texas
AP Pick: 15
12th Man: 14
Mack Brown has been off center stage for too long and his emergence will begin this season. I think, at least from what Coach Brown is saying, the coaching staff and players are gelling just fine now. Coach Brown has had a lot of turnover in the last few seasons, both coaching and players, so I think their time is due. McCoy will be better this season, and Brown looks to anchor the backfield on offense. The Longhorns have a rough stretch in September though playing OSU, WVU and Oklahoma in a three week span. The good news, the Horns' get two of those three at home. However, I can easily see them coming out of that stretch 1-2 (I'm thinking they beat WVU). The end of the season has them pitted against TCU and Kansas State, and I'm afraid they fall in one of those weeks too (I say TCU's got them). I can easily see 9-3 for this football team, yet that's an improvement from a year ago, and look out come 2013!
Not this season, but this pic will be coming to a newspaper near you soon!
Virginia Tech
AP Pick: 16
12th Man: 16
I think Beamer ball is on the decline, unfortunately. Beamer's teams, for whatever reason have imploded late in the season and I think the implosion will occur much sooner this season. Logan Thomas will return to lead an offense with no clear cut favorite in the backfield. I will say this, the Hokies defense and special teams, two facets of the game Beamer has made synonymous with winning, are lacking. The talent is there, the question remains about depth, and consistency and the latter has been sorely lacking at Tech here lately.
Nebraska
AP Pick: 17
12th Man: 17
I'd pick these guys higher, but just like VT, the Huskers can't seem to put it all together when it matters the most. The return to option football was a breath of fresh air across the Midwestern cornfields, however the defense is going to really need to step things up if the Huskers are to move up my list. The schedule ain't so easy either with road games at Ohio State and MSU, plus having to go West to UCLA early on won't be easy. I do think, if the consistency is there on both sides of the ball, this team could turn some heads, however, I'm not going to bet the farm on it.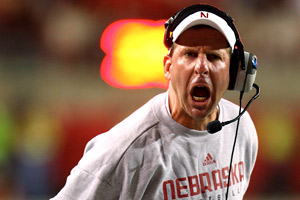 It doesn't take an asshole to win...but it does help...
Ohio State
AP Pick: 18
12th Man: 23
Big shocker here! Yes, I can't stand Ohio State, but the Buckeyes are truly overrated this season. The biggest reason they are picked 18th is because of Urban Meyer. Yes, they do have some talent, but that defense is not ready to stand toe-to-toe on a national stage yet. I see them losing to all their ranked opponents this season and coming away with a regular season of 8-4. The Buckeyes will win their bowl game, and move into the off season at 9-4 and will soar after that. I just don't think this is their year, and I'm going to enjoy watching EVERY moment of it.
Oklahoma State
AP Pick: 19
12th Man: 22
There's just too much turnover in OSU with the loss off Weeden and Blackmon. The defense was atrocious last year and without their big name superstars, this team may slide off the map altogether. I see this team at 8-4 at best, potentially going 7-5 AND losing their bowl game to go 7-6. I wasn't a fan of their style of play last year and I think it's going to catch up with the Cowboys this season.
TCU
AP Pick: 20
12th Man: 18
TCU will be better this season, I guarantee that, and I honestly believe the Frogs are going to turn some heads this season. The last five weeks will be grueling for this team, but the first seven are basically tune-ups for that stretch. I see TCU coming out of that five week run at 3-2 with victories over KSU, WVU, and OSU, only to lose to both Oklahoma and Texas. I think that stretch will wear down TCU and they will lose those last two games. The defense will need to much improved from a year ago, but their offense should easily be Big 12 caliber, and should be hard on opponents. Gary Patterson is a great motivator and if they come out that five week stretch better than 3-2, look out BCS! However, realistically 3-2 is a high bar to achieve there and I'm being nice, 1-4 is certainly possible.
Hello Big 12...
Stanford
AP Pick: 21
12th Man: 21
The loss of Andrew Luck will be felt in Palo Alto, sorry Stanford fans. However, I don't think this team will be all that bad this season. The worse thing is they get USC way to early, and will fall there, as well as to Oregon. The game to watch is against Washington State. I think the ol' Pirate will get him a win here dropping Stanford to 8-4 on the regular season. I say 8-4 because I really think Notre Dame upsets this team in South Bend this year.
Kansas State
AP Pick: 22
12th Man: 20
I know, seems a bit odd to see KSU above Stanford doesn't it? Well, I do think they are better than the AP has them listed and I tell you why. Coach Snyder finds ways to win, and he will do it once again this season. I think they beat Miami early on, only to falter against Oklahoma. WVU will be a crap shoot, and I think KSU will have them. I do think they will beat OSU, but Texas and TCU should handle the Wildcats. I also can see this team dropping one to a Baylor or Texas Tech along the way as well. However an 8-4 season is not far off for this bunch, but I'm not going to go posting any money on that either...
Florida
AP Pick: 23
12th Man: 19
Florida, in Will Muschamp's second year will be better than 7-6. I see this team coming out the gates hot winning their first four games quite easily. I don't think they stand a chance against LSU and will falter. I see them struggling with Vandy, then moving on to beat Georgia in a big upset win, only to be deflated the next week with a blowout loss to South Carolina. The end of the season will be a darn good game, but the Gators will come up short once again to a very good FSU team to finish 9-3. 7-5 is not far off either, I'm assuming they beat either UGA or USC, if neither of those happen, things go bad quick. If they come out of the first four games at 2-2, you could see this team at 6-6 quite easily. However, I just don't think that's going to happen. The defense is just too good, and the offense will be better than a year ago.

Year of the Gator? Not by my Chinese Calendar!

Boise State
AP Pick: 24
12th Man: NR
Too much turnover here, losing both the starting QB and RB from last season's team. The loss of OC Brent Pease to Florida will be too much for the Broncos to bear. The schedule is much more favorable with Michigan State being the only ranked opponent they have thus far, however I don't see them going 11-1. Boise is down and I could see them losing at least one more to finish 10-2, but with a very weak schedule, I don't see BCS gold in their future in my crystal ball.
Louisville
AP Pick: 25
12th Man: 25
Charlie Strong has shown early on what he's made of in the coaching ranks. I see UK shocking him though in the first week, and perhaps losing to either Cincinnati, or South Florida later in the year this teams is a shoe-in for 10-2. I don't see 10-2 for them, but the potential is there. A more realistic look would be to say 9-3 or even 8-4. You can't take Cincinnati, South Florida, Pitt or Southern Miss lightly. I don't think they get by UNC either, even though UNC will be hurting from sanctions, they ain't hurting that bad.
Notre Dame
AP Pick: NR
12th Man: 24
I think Brian Kelly's Irishmen will be a dang good football team this season. They have a bitch of a schedule though, but I see them winning all the non-ranked ones, and going 1-4 through the ranked portion of the schedule. Yes, I even see them beating Miami (FL) too. Navy will be tough, but they just have too much firepower for a young Navy squad. I think they pick off Stanford or Michigan State, but not both. I can easily see 8-4 in their future, with the possibility of 9-3, but I highly doubt it.
Ok, so at the end of the year now everybody can throw rocks when I'm way the hell off with my predictions here. Anyhow, I did just to look cool like all those other fancy blogs, so piss off!
Duece